Recipe: Tasty Baked Cheesecake & Peach Chardonnay Sauce
Baked Cheesecake & Peach Chardonnay Sauce. An awesome-tasting, wonderfully-textured cheesecake that my family loves. It's easy to make and just as delicious as any restaurant cheesecake that I've had. When making a baked cheesecake, there are many mistakes you'll want to avoid.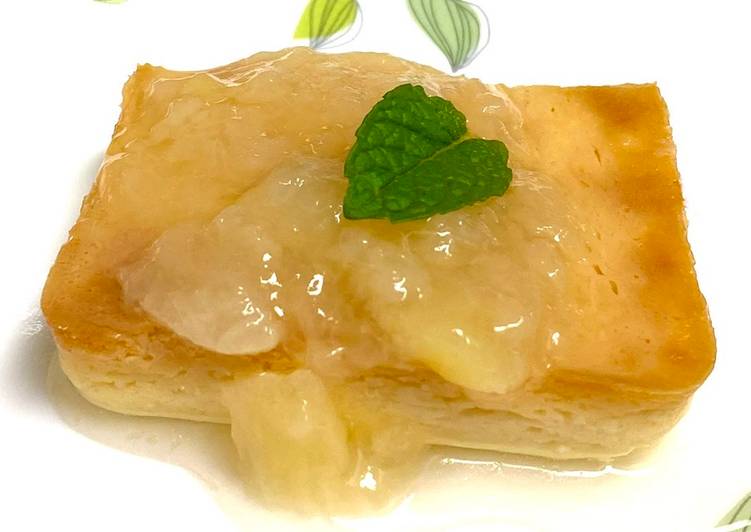 Baked cheesecake is definitely a top. Looking for that perfect baked cheesecake recipe to finish the night? Well, we've gathered our most decadent baked varieties for your inspiration. You can cook Baked Cheesecake & Peach Chardonnay Sauce using 15 ingredients and 17 steps. Here is how you cook it.
Ingredients of Baked Cheesecake & Peach Chardonnay Sauce
Prepare of Cake.
It's 400 g (14.10 oz) of Cream cheese.
It's 100 g (3.52 oz) of White sugar.
Prepare 40 g (1.41 oz) of Cake flour.
Prepare 4 tsp of Honey.
You need 2 of Eggs.
Prepare 200 ml (6.76 fl oz) of Heavy cream.
Prepare 1 of Lemon zest.
You need 40 ml (1.35 fl oz) of Lemon juice.
Prepare 20 ml (0.67 fl oz) of White Rum.
You need of Sauce.
You need 100 g (3.52 oz) of Peach jam.
Prepare 100 ml (3.38 fl oz) of Chardonnay.
Prepare of Topping.
Prepare to taste of Mint leaves.
This no bake cheesecake recipe is a family favorite. It's been years since I've had this particular no bake cheesecake. I was trying to explain it to my hubby one day and he had no idea what I was. This Cheesecake Recipe is perfect in every way.
Baked Cheesecake & Peach Chardonnay Sauce step by step
Cream cheese at room temperature..
Add white sugar and knead well with a spatula..
Add cake flour and mix well..
Add honey and mix..
Make beaten eggs, add it to the cake mixture and mix well. *The photos are 4 eggs, but add just 2 eggs. That's for 4 trays..
Add heavy cream and mix..
Add lemon zest & juice, white rum, and then mix well..
Pre-heat the oven to 180℃ (356℉)..
Pour the cake mixture into the baking tray. Lightly drop the tray few times to make the surface even. Pour 1/3 water in the grill tray for steam baking..
Bake at 180℃ (356℉) for 25 mins and then 150℃ (302℉) for 20 mins..
Cool it down. Do not touch the cake. It's easy to break..
Wrap with foil and put in the refrigerator..
Put peach jam & chardonnay in a bowl..
Heat at 600W for 3 mins or boil with a pan..
Cool it down and pour into a container. Keep in the refrigerator..
Put a slice of cheesecake on the plate and serve with tasty sauce & fresh mint leaves!.
"Baked Cheesecake & Blueberry Wine Sauce" is also good! Recipe ID : 13303986.
It's a great go-to cheesecake recipe that can be topped with your favorite fruits and perfect for all of your special occasions. A no-bake cheesecake takes all the stress away. Plus, it takes about half the time to make. Our classic cheesecake requires flour and eggs which helps set the cheesecake as it bakes. Try our baked raspberry cheesecake recipe.